Eleuthera
General Information about Eleuthera, Bahamas

Atlantic meeting Caribbean
Eleuthera stretches approximately 110 miles long and in places spans no more than a mile to a mile and a half wide. It's mainland is divided into north and south, where in the northern portion offers ferry docks to both Harbour Island and Spanish wells. Traveling south from northern Eleuthera one passes through the Glass Window Bridge which offers dramatic views of both the Caribbean Sea and Atlantic Ocean. This bridge is one of the narrowest points of the island.
The total population according to the 2000 census is 11,165 inclusive of Spanish Wells and Harbour Island.
It's settlements include (north to south) The Bluff, Upper and Lower Bogue, The Current, Gregory Town, Alice Town, James Cistern, Governor's Harbour, North and South Palmetto Point, Savannah Sound, Winding Bay, Tarpum Bay, Rock Sound, Greencastle, Deep Creek, Delancy Town, Waterford, Wemyss Bight, John Millars, Millar's and Bannerman Town. Airports with regularly scheduled flights are found in North Eleuthera, Governor's Harbour and Rock Sound.
Famed for the sweetness of its Pineapples, Eleuthera holds an annual Pineapple Festival in Gregory Town each June.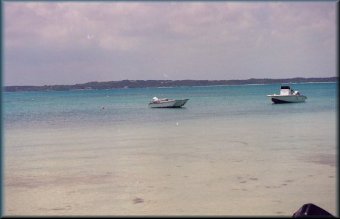 Visit Preacher's Cave where it is believed that Eleutherian's took shelter after exploring North Eleuthera. Another site of interest is the Cave at Hatchet Bay which is filled with stalagmites and stalactites. Rock Sound Ocean Hole is popular for feeding fish or climbing the cliffs for a dramatic view of both the Caribbean and Atlantic oceans. Surfer's Beach is popular for the obvious reasons. The Boiling Hole and The Hot Tubs just south of Whale's Point are popular attractions as are The Cliffs north of James Cistern. Excellent Bone Fishing can be had in many of the bays with a special favorite being Ten Bay.
The well to-do inhabitants of Windermere Island are often visited by the Royal Family. Windermere Island is just off the eastern coast of Eleuthera, south of Savannah Sound.
Originally Puritan Pilgrims settled in the area now known as Governor's Harbour, coming ashore at Cupid's Cay in 1648. They then renamed the island from Cigatoo - its aborigine name, to Eleuthera which means Freedom in Greek.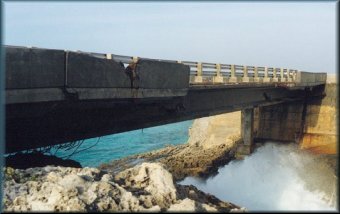 Glass Window before Hurricane Andrew
where Atlantic meets Caribbean
Eleuthera is full of natural beauty with white and pink sand beaches stretching miles and miles along its coasts to stunning views of both the Caribbean Sea and Atlantic Ocean. Along Eleuthera are majestic cliffs and massive boulders thought to have been left by catastrophic tsunamis over 100,000 years ago.

Can't find what you are looking for? Contact Bahamas Vacation Guide info

Back to Bahamas Vacation Guide Welcome Page