Spanish Wells, Bahamas
Island info for Spanish Wells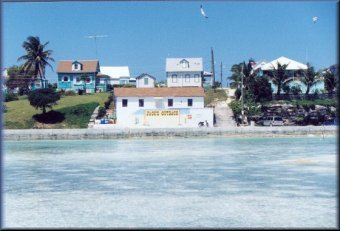 Spanish Wells, is a tiny little island consisting of only a few hundred people. It is a vibrant weathy, fishing community. Considered to be the fishing capital of the bahamas,the main catch is crawfish (spiny lobster). The residents of this island enjoy a lavish lifestyle,due to the healthy crawfishing seasons, and it is said that the residents, are inclined to stay on the island, chosing the historical crawfishing, as a way of life. The main population on the island is that of caucasion.
The island is located off the northwest tip of Eleuthera, 50 miles northeast of Nassau, and 200 miles east of Miami, Florida. The islands closest neighbour is Russell Island. There is a small bridge that connects Russel Island to Spanish Wells, providing practical travel for the residents of both islands.
The residents of this island are said to be direct decendants of the original Eleutheran Adventurers and Loyalists.
A long time ago, the island was used by sailors, as a stop point at which to fill their casks with fresh water after extensive sea voyages.
In 1647 William Sayles and his crew set sail from Bermuda, in search of new land and religious freedom. After a two month sea voyage, their ship foundered after hitting atop a coral reef, leaving the crew and Sayles stranded on the northern part of the island. Sayles along with his crew all survived the tradgedy, and found their way to Preachers Cave situated near the north beach.They remained there and called the island home for a number of years.
Click Here to Search the Bahamas Vacation Guide


Visit the Bahamas Message Boards
Can't find what you are looking for? Contact Bahamas Vacation Guide info

Back to Bahamas Vacation Guide Welcome Page
Bahamas Activities | Bahamas Bed & Breakfast | Bahamas Car Rentals | Bahamas Eco Tourism | Bahamas Fishing | Bahamas Hotels | Bahamas Kids Activities | Medical | Bahamas Night Life | Pampering | Bahamas Real Estate | Bahamas Restaurants | Sailing & Charters | Bahamas Watersports | Bahamas Wedding | Bahama Islands & Maps | Bahamas General Information | Bahamas Frequently Asked Questions | Facebook | Bahamas Weather Forecast | Advertise with Us |

http://www.the-bahama-islands.com/spanishwells.html
Pages Designed and Maintained by BVG Design
Questions or Comments: Bahamas Vacation Guide
Date Page Last Maintained: 21 March, 2004
Bahamas Vacation Guide Copyright © 1996 - 2018
see privacy, copyright, disclaimer & policies All Rights Reserved